Monex Group, Inc., an online broker has just published its operating metrics for the month of January, being again one of those, who enjoyed increased market volatility reflected by higher volumes.
Forex volumes in total, across all of Monex's subsidiaries, reached $37.9 billion, what is 28.5% from the previous month, already optimistic in its operating metrics results. Nevertheless, this was still lower the January 2015 operating metrics. Here we have to point out, that previous January was so successful due to Swiss National Bank's cap removal, so the trading volumes were extraordinarily higher.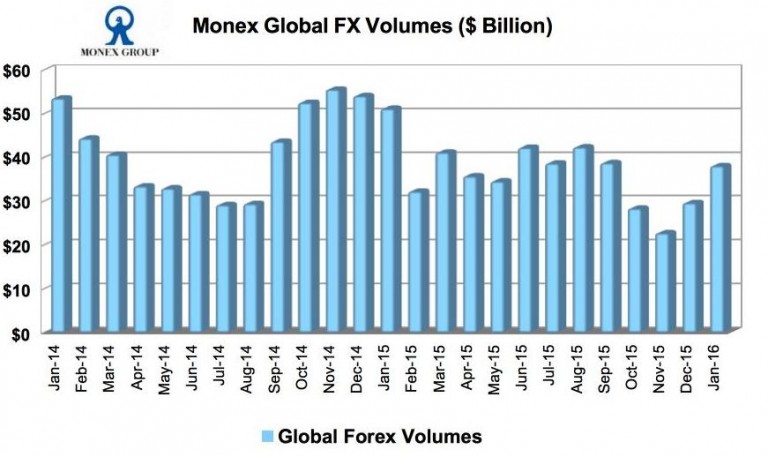 DARTs (daily average revenue trades) within all Monex subsidiaries reached the amount 359,627 in January 2016, posting a higher reading compared to 282,969 in December and slightly higher from 359,501, reached in the same month of the previous year.
The Japanese subsidiary Monex Inc, experienced a huge increase in DARTs on monthyl basis, registering 215,406 in January 2016. Active OTC FX accounts posted a slight increase, touching 63,265 by the end of the month.
The US subsidiary, TradeStation Group, saw rising trading activity in January, when its DARTs metrics jumped to 145,099 and active accounts number hikes to 68,419.
In contrast to what the bulk of the industry has displayed thus far, ASX posted a double-digit drop in futures trading volumes in January 2016.
Nevertheless, January saw drops as well. ASX posted its operating metrics for January 2016, where its futures and options on futures volume reached only 9,122,612 contracts, and that is deeply lower as in the previous month, down exactly 24.1%. Albeit it is still better (by 1%) in comparison with January 2015.
Their volumes in futures registered 8,993,472 contracts in total, what is a decline of 24.4% compared to the previous month, or 1% higher from the levels reached in January 2015.
Trading volume of options on futures reached 129,140 contracts, posting a 3% drops from December 2015 and falling 16% from January 2015.
For any questions or recommendations, feel free to write us on hello@goforex.eu