Sterling is about to watch Wednesday very closely as the news will come right one after another, firstly starting with the Bank of England (BoE) meeting minutes and labor market data, followed by the Federal Open Market Committee (FOMC) later during the day.
We could see sterling's strong performance during this month with last week permanent increase of the currency pair, albeit mostly driven by weakness of the US dollar (spurred on Monday by US President Obama's worries about strong national currency) and coming FOMC. Nevertheless, also other sterling's currency pairs saw British pound's advance, we can contribute it to higher demand for the sterling as well, although latest data brought no specific boost.
We will see BoE's meeting minutes today, to be published at 8:30AM GMT together with the unemployment rate and jobless claims. Market expects the minutes to provide only the expected opinion of policymakers on leaving the rates unchanged.
FOMC is expected to bring more volatility to sterling and dollar, as the rate-hike bets for June have already been left behind and traders' focus on September is seeking any hints, that could support this speculation. FOMC's economic projections will bring GDP lower again due to previously overestimated first half of this year, but the dot-plot will be monitored closer.
We expect no liftoff, just slight or no changes to unemployment rate outlook, just one traditional dissenter and maybe more optimistic sentiment on labor market data during last two months.
As for the sterling, we expect the currency to keep its strength for a short time, but BoE minutes are not expected to bring any stellar adjustments to the already existing sentiment. Dollar points to more optimistic outlook and from the fundamental point of view, we remain bullish in a long-term on the US dollar in this currency pair as well.
From the technical point of view, currency pair is now trading close to the resistance of $1.5674, albeit it is expected to be the possible max of the day, while second resistance at $1.5778 could be reached only in case of dollar's disappointment from the FOMC.
In case of dollar-bullish sentiment after the FOMC, we can expect the pair to reach $1.5466, or if the trend continues, traders could put their take-profits at $1.5321.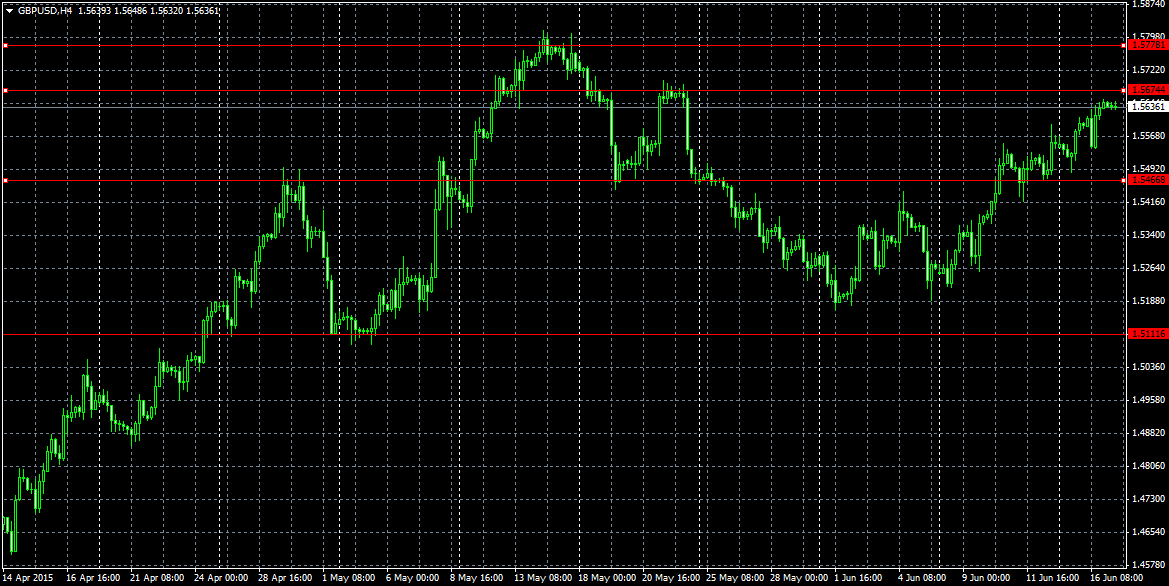 For any questions or recommendations, feel free to write us on hello@goforex.eu